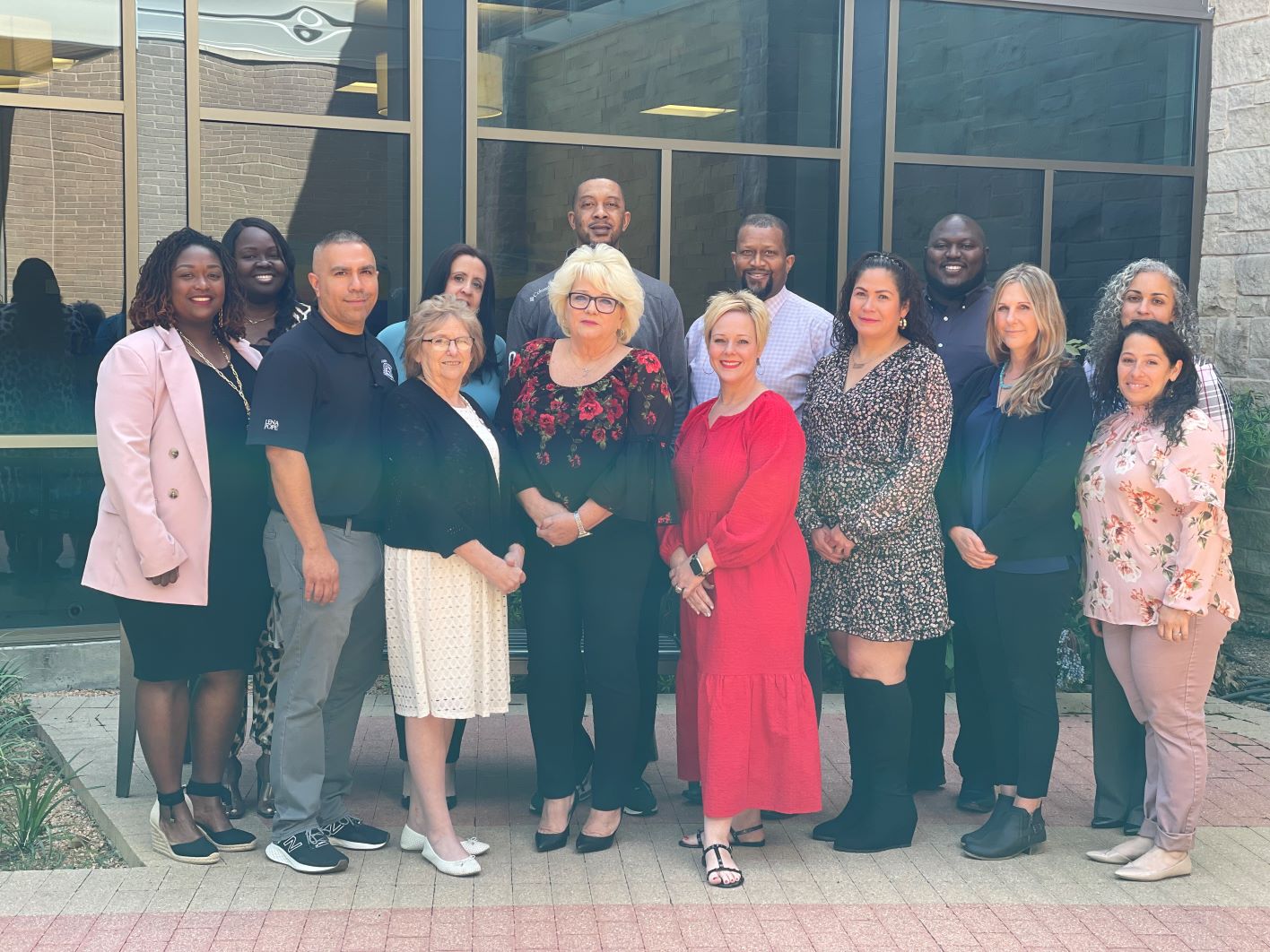 Join us! If you believe that children are our community's greatest asset – worthy of our investment, join our efforts to improve child well-being here in Tarrant County… we have a variety of ways you can make a difference!
We are proud to be named:
2020, 2021, 2022, & 2023 Best Place for Working Parents in recognition of our commitment to supporting working parents through our family-friendly policies and practices
2022 Best Companies to Work for in Fort Worth by Fort Worth, Inc. recognizing our efforts to retain and recruit a highly engaged workforce where employees are eager to give their best effort every day.
Benefits Summary
Vacation, personal holidays (2), and sick time
Seven regularly scheduled agency holidays
403-B administered by TIAA for non-charter school staff
Teacher Retirement System (TRS) retirement for charter school staff
Flexible Spending Accounts, medical and dependent care
Tuition reimbursement
Employee Wellness Program
Telecommuting options, if applicable
Workplace perks such as recreation activities, food and coffee, and variable work schedules
Enrollment in Lena Pope's benefit plan is available which includes:
Health insurance
Life insurance, no cost to employee
Dental insurance
Vision insurance
Long term disability insurance, no cost to employee
To submit an application for an open position listed below: 
Click Apply Now
Download PDF
Complete fillable PDF or print and complete
Save a copy to your machine/scan completed copy
Email completed form to applications@lenapope.org
Read our Equity Statement.
Open Positions
Filter By:
Early Learning Toddler Teacher 2-3 year olds (Full-time)


Read More

Apply Now

If you would like to continue your commitment to our children and families and meet the qualifications, please submit your interest (in writing, email, or hard copy) and an updated resume to Robert Ramirez by 5:00 pm on May 22, 2023.

Reports to: Director of the Early Learning Center/UNTHSC Campus

Position Functions:
1. Direct supervision of children:  Maintains constant visual and auditory monitoring and
promotes a safe learning environment.
2. Student Engagement:  Creatively and consistently engages children in learning.
3. Conducts Assessment:  Regularly observes and evaluates each child's progress and shares
findings with parents and director at least twice a year.
4. Education:  Provides planned learning activities that facilitate appropriate development of
children.
5. Parent Engagement:  Effectively communicates with parents (in verbal and written form).
6. Professionalism:  Performs in a professional manner consistent with job description.
7. Classroom Management/Environment:  Maintains an organized classroom and schedule.

Qualifications:
To be able to perform this job successfully, an individual must be able to perform each essential
duty satisfactorily. The requirements listed below are representative of the knowledge, skill
and/or ability required.
• Associate's degree in Early Childhood Education or a child-related field
required.
• Must possess knowledge of the following
o Developmental stages
o Effective childcare discipline management
o Appropriate parent and child communication
o Effective classroom environments specific to ages ages/stages.
(2-3 years old)

Location
3620 Modlin Ave. Fort Worth, TX 76107
Early Learning Toddler Teacher (Full-time)


Read More

Apply Now

Lena Pope is accepting applications for an Early Learning Toddler Teacher. Interested candidates should email a cover letter, resume, and submit an on-line application to applications@lenapopehome.org. EOE

Reports to:  Director of Early Learning Center

Position Functions:

Direct supervision of children:  Maintains constant visual and auditory monitoring and promotes a safe learning environment.
Student Engagement:  Creatively and consistently engages children in learning.
Conducts Assessment:  Regularly observes and evaluates each child's progress and shares findings with parents and director at least twice a year.
Education:  Provides planned learning activities that facilitate appropriate development of children.
Parent Engagement:  Effectively communicates with parents (in verbal and written form).
Professionalism:  Performs in a professional manner consistent with job description.
Classroom Management/Environment:  Maintains an organized classroom and schedule.

Qualifications:

To be able to perform this job successfully, an individual must be able to perform each essential duty satisfactorily. The requirements listed below are representative of the knowledge, skill and/or ability required.

Associate's degree in Early Childhood Education or a child-related field required.
Must possess knowledge of the following
Developmental stages
Effective childcare discipline management
Appropriate parent and child communication
Effective classroom environments specific to ages/stages

Location

3200 Sanguinet Street, Fort Worth, TX 76107
Early Learning Aide (Preschool, full time)


Read More

Apply Now

Lena Pope is accepting applications for a Early Learning Aide. Interested candidates should email a cover letter, resume, and submit an on-line application to applications@lenapope.org. EOE

POSITION TITLE:      Early Learning Aide (Preschool, full time)

SUPERVISOR:           Early Learning Center Director, UNTHSC Campus

PRIMARY FUNCTION: 

Direct supervision of children:

Maintains constant visual and auditory monitoring and promotes a safe learning environment.

Student Engagement:

Creatively and consistently assesses and engages children in learning.

Education:

Assists in implementing planned learning activities that facilitate appropriate learning and development of children.

Parent Engagement:

Effectively communicates with parents (in verbal and written form) information regarding program activities and child progress, behavior, successes and concerns.

Professionalism:

Performs in a professional manner consistent with Lena Pope expectations.

Classroom Management/Environment:

Is able to effectively manage classroom behaviors by addressing negative behaviors and reinforcing positive behaviors

QUALIFICATIONS:

Educational/Certification:

Child Development Associate (CDA) and/or Associates Degree in a child related field required.

Must be at least 18 years of age.
A minimum of 6 months relevant experience serving early childhood population.
Spanish speaking preferred.
Ability to interact with clients and staff with sensitivity and responsiveness to cultural and socioeconomic characteristics in the service population.
Skills/Abilities:

Strong oral and written communication abilities.
Ability to manage multiple projects simultaneously.
Excellent organizational skills.

Other Requirements: Must have a driving record which is within the guidelines of the insurance underwriter.  Must not have been charged with or convicted of a criminal offense that would disable the employment by failing to meet minimum standards as set by the Licensing Branch of the Texas Department of Family and Protective Services.

LOCATION

3620 Modlin Ave.
Fort Worth, Texas 76107
Substitute Teacher—long term—Kindergarten through 7th grade


Read More

Apply Now

Lena Pope's Chapel Hill Academy is accepting applications for long-term Substitute Teachers. Interested candidates should email a cover letter, resume, and submit an on-line application to applications@lenapope.org. EOE

POSITION TITLE: Substitute Teacher—long term—Kindergarten through 7th grade

GROUP: Chapel Hill Academy

SUPERVISOR: Assistant Principal

POSITION FUNCTION: 

Teach by utilizing well-designed lesson plans provided by team lead and rigorous instruction combined with curriculum activities and instructional objectives that are standards based, measurable, and accelerate the transfer of learning and knowledge
Monitor student progress and adjust instructional materials and strategies to provide differentiated instruction and address individual needs of the students by seeking guidance from lead teacher or other full-time staff
Assist in assessing and documenting student mastery of curriculum objectives and student progress and growth
Maintain accurate and efficient record-keeping of grade reports, student work, and other appropriate documents
Manage student behavior according to Chapel Hill Academy policies and consult with Dean of Students
Execute and maintain appropriate student-centered discipline techniques and effective classroom management strategies to maximize student learning and time-on-task
Monitor student behavior outside the classroom at designated times, between classes, and at assigned duty stations
Maintain classroom environment conducive to learning and appropriate for the physical, social, and emotional development of students
Meet all deadlines promptly regarding daily work grades, daily attendance, etc.
Abide by and enforce Lena Pope and Chapel Hill Academy policies and procedures
Perform other job-related duties as assigned

QUALIFICATIONS:  

Bachelor's degree from accredited college/university.
One year of classroom experience required
One year of working with children
Excellent communication & interpersonal skills

 LOCATION: 4640 Sycamore School Road, Fort Worth, TX  76133
Special Education Teacher


Read More

Apply Now

SUPERVISOR: Principal

POSITION FUNCTIONS:

* Maintains an appropriately challenging & engaging focused learning environment.
* Delivers differentiated instruction to students to address students' needs in promoting intellectual & social growth.
* Performs in a professional manner consistent with job description.
* Maintains an organized classroom environment conducive to promoting & inspiring learning for students in Pre-Kindergarten – 8th grades.
* Collaborate with & offer support to Diagnostician, Speech Therapist, teachers, supervisors, and other providers on current instruction to address IEP's, appropriate learning styles & provide staff development opportunities.
* Provide a variety of support services in order for students to experience success.

QUALIFICATIONS

To be able to perform this job successfully, an individual must be able to perform each essential duty satisfactorily. The requirements listed below are representative of the knowledge, skill and/or ability required.

* Bachelor's degree in Education required
* Successful experience teaching in a public or charter school
* Texas Teacher's Certification required
* Special Education Certification required

Must possess knowledge of the following:

* All content area TEKS for Kindergarten – 8th grade
* Pre-Kindergarten Guidelines
* Allowable Modifications & Accommodations
* Various areas of disabilities ranging from Learning Disabilities, Emotional
* Disturbances, Autism Spectrum, Other Health Impairments, etc.
* Effective classroom management
* Excellent communication skills

LOCATION

4640 Sycamore School Road Fort Worth, TX 76133
Math or Reading Tutor (after-school program)


Read More

Apply Now

Chapel Hill Academy is accepting applications for Math or Reading Tutors. Interested candidates should email a cover letter, resume, and application to applications@lenapope.org. EOE

SUPERVISOR: Education Research and Data Coordinator

PRIMARY FUNCTION: Provide direct tutoring services to small groups of growing readers and mathematicians in a school setting. Report to the Program Manager of Tutoring Services and track student's academic growth via BookNook, Amplify, or Zearn's small group tutoring intervention program.

PRIMARY DUTIES:

Provide tutoring services to students in grades fourth through eighth, Monday through Friday, five days a week from 3:15 pm to 6:30 pm, during the 2022-2023 school year. Tutoring begins on August 22, 2022 and ends May 5, 2023.
Monitor student progress periodically to decide if tutoring instruction is effective or needs adjustments.
Prepare tutoring sessions based on assigned small group lesson plans.
Track and report student attendance daily.
Implement feedback from the program manager in a prompt fashion.
Communicate and record student goals and achievements.
Review communication from the leadership team for any program changes and updates.
Attend synchronous or asynchronous bi-weekly meetings with the project manager.
Attend and engage virtual training and onboarding.
Supply data and program reports to internal and external stakeholders.

QUALIFICATIONS:

Strong commitment to serve youth (grades fourth through eighth).
General experience in Google Meet, Google Docs and Google Sheets.
Problem solving skills are preferred.
Strong knowledge in reading or math subjects.

LOCATION: Chapel Hill Academy

4640 Sycamore School Road

Fort Worth, Texas 76133
Family Therapist – Community Based Services


Read More

Apply Now

SUPERVISOR:           Community Based Services Supervisor

PRIMARY FUNCTION: Responsible for the implementation of a home or office-based program or service that will encourage clients/families to maintain cohesiveness and to preserve the family as a unit by providing crisis intervention, therapy, skills training, and linkage to community resources.

QUALIFICATIONS:

Educational/Certification:

Master's degree from an accredited college or university in social work, counseling, psychology, or other field related to health and human services.
Appropriate licensure required. LPC- Associate, LMSW, LMFT- Associate or actively seeking licensure.
Clinical knowledge of the DSM and disorders that impact children and youth.
Broad knowledge of community resources.
Experience working with at risk youth and families.  Experience providing in-home services and group facilitation preferred.
Driver's license required.

Skills/Abilities:

Strong oral and written communication skills.
Excellent counseling and clinical ability.
Able to organize, coordinate, and direct service activities.
Possess good judgement and decision making skills.
Able to use technical equipment such as a cell phone and personal computer for on-going communication
Willingness to perform within a flexible schedule, including evenings and weekends.
Ability to collaborate with family members and other professionals.
Able to relate well with others in a multi-cultural environment.

Other Requirements: Must have a driving record which is within the guidelines of the insurance underwriter.  Must not have been charged with or convicted of a criminal offense that would disable the employment by failing to meet minimum standards as set by Lena Pope Policies and Procedures.


LOCATION:             3200 Sanguinet Street, Fort Worth, Texas 76107
Early Learning Toddler Teacher 2 and 3-year old(Full-Time)


Read More

Apply Now

Reports to:              Director of Early Learning Center

Position Functions:

1) Direct supervision of children: Maintains constant visual and auditory monitoring and promotes a safe learning environment.

2) Student Engagement: Creatively and consistently engages children in learning.

3) Conducts Assessment: Regularly observes and evaluates each child's progress and shares findings with parents and director at least twice a year.

4) Education: Provides planned learning activities that facilitate appropriate development of children.

5) Parent Engagement: Effectively communicates with parents (in verbal and written form).

6) Professionalism: Performs in a professional manner consistent with job description.

7) Classroom Management/Environment: Maintains an organized classroom and schedule.

Qualifications

To be able to perform this job successfully, an individual must be able to perform each essential duty satisfactorily. The requirements listed below are representative of the knowledge, skill and/or ability required.

Associates degree in Early Childhood Education or a child-related field required.
Must possess knowledge of the following o Developmental stages o Effective childcare discipline management o Appropriate parent and child communication o Effective classroom environments specific to ages/stages

Location
3200 Sanguinet Street, Fort Worth, TX 76107
Teacher (Positions ranging from Early Childhood through 8th grade)


Read More

Apply Now

Lena Pope's Chapel Hill Academy is accepting applications for experienced teachers. Interested candidates should email a cover letter, resume and submit an on-line application to applications@lenapope.org. EOE

GROUP: Chapel Hill Academy

SUPERVISOR: Principal

POSITION FUNCTION: 

Teach by utilizing well-designed lesson plans and rigorous instruction combined with curriculum activities and instructional objectives that are standards based, measurable, and accelerate the transfer of learning and knowledge
Monitor student progress and adjust instructional materials and strategies to provide differentiated instruction and address individual needs of the students
Develop and implement lesson plans instructional units and opportunities for enrichment, differentiation, and project-based learning to provide for a collaborative, and interactive learning environment
Assess and document student mastery of curriculum objectives and student progress and growth utilizing frequent, appropriate, on-going, and multiple assessment tools through interventions, and formal and informal assessment procedures
Maintain accurate and efficient record-keeping of grade reports, student files, and other appropriate documents
Work cooperatively with special education teachers to modify curricula as needed for special education students according to guidelines established in Individual Education Plans (IEP)
Manage student behavior and administer discipline according to Chapel Hill Academy policies and IEPs
Execute and maintain appropriate student-centered discipline techniques and effective classroom management strategies to maximize student learning and time-on-task
Monitor student behavior outside the classroom at designated times, between classes, and at assigned duty stations
Engage parents and families in the academic and behavioral progress of their child by initiating parent conferences and providing opportunities for parents to continually support student learning and school programs
Create classroom environment conducive to learning and appropriate for the physical, social, and emotional development of students
Develop weekly lesson plans focusing on TEKS/SEs.
Collaborate closely with vertical and horizontal teams.
Maintain effective partnerships with parents via ongoing communication regarding academics/behavior.
Meet all deadlines promptly regarding grades, progress reports, daily attendance, etc.
Abide by and enforce Lena Pope and Chapel Hill Academy policies and procedures
Perform other job related duties as assigned.

QUALIFICATIONS:  

Bachelor's degree from accredited college/university.
Texas Teacher's Certification required.
Public or Charter school teaching experience required.
Proven record of successful teaching.
Excellent communication & interpersonal skills

 LOCATION:       4640 Sycamore School Road, Fort Worth, TX  76133
Teacher Resident


Read More

Apply Now

Lena Pope is accepting applications for a Teacher Resident. Interested candidates should email a cover letter, resume and submit an on-line application to applications@lenapope.org. EOE

GROUP:  Chapel Hill Academy

SUPERVISOR:  Mentor Teacher and Principal

POSITION FUNCTION:  The teacher resident (TR) is a student teacher who participates in a year-long clinical experience under the guidance of a highly effective mentor teacher (MT For a full school year, full-time, the resident works alongside the MT. TRs are actively engaged in as many elements of the classroom as possible from the very beginning of the residency year. The TR will gradually assume greater responsibilities throughout the residency year as they develop as a teacher.

Typical responsibilities include learning while:

Co-planning and co-teaching with MT and other team members, leading small group instruction, leading instruction without the MT present (with planning support from MT).
Attending professional development prior to the start of the school year and on-going throughout the school year.
Participating in team planning, Professional Learning Communities, school-based professional development, campus faculty meetings, and meetings with their Site Coordinator (SC).
Working with the MT to monitor and improve instruction with formative and summative assessments, grading, data analysis, and rubrics to identify next steps.
Adapting and improving high-standards, differentiation-ready lesson plans that motivate strong student learning, after learning to deliver such lessons prepared by the MT and/or experienced team members.
Managing procedures, supervising students, and developing students' social-emotional skills during transitions, lunch, recess, assemblies, and other activities, and while team teachers plan or deliver instruction.
Embracing feedback from MTs and the Site Coordinator before, during, and after informal and formal observations.
Substituting within the school placement one day per week (applicable to candidates in the paid residency)
Taking responsibility for other non-instructional duties as assigned by the MT.

Responsibilities
(while learning from MT and collaborating with team; may vary)

Classroom and School Environment—Yearlong

Identify and address individual students' social, emotional, and behavioral learning needs and barriers
Hold students accountable for ambitious, measurable, high expectations of behavior and engagement
Contribute to a culture of respect, enthusiasm, and rapport
Manage student behavior during transitions and less structured time (such as recess, lunch)
Monitor independent work time in classroom while teacher provides instruction
Identify and suggest ways to engage students in a physical/virtual classroom that include technology

Planning and Preparation—Progressively Doing More

Co-Plan with MT and team
Ensure a high-standards, differentiation-ready curriculum
Plan backward to align all lessons, activities, and assessments with high-expectation standards & curriculum
Implement and suggest improvements to instruction that develop higher order thinking skills and is personalized, reflecting the levels and interests of individual students
Implement and suggest improvements to assessments that accurately assess student progress

Instruction—Progressively Doing More

Provide small-group instruction under the direction and using tools/rubrics of the MT and team
Supervise student skills practice, projects, and digital learning
Co-Teach with MT
Lead whole-group instruction
Participate in instructional planning, data review, and improvement during the year

Professional Responsibilities

Solicit and willingly receive feedback from MT, Principal, SC, and team members to improve professional skills
Meet with MT to ensure alignment of instructional vision and delivery in all classrooms and to troubleshoot students' persistent learning challenges
Collaborate with other grade-level team members
Participate in professional development opportunities at school

QUALIFICATIONS:  

Enrolled in the EPP program, working towards a teaching certificate 
Strong work ethic, open to feedback, with willingness to implement next steps, and a belief that all students can achieve.
Demonstrated effectiveness working with people who have differing cultural backgrounds and/or personal characteristics, including race, religion, gender, sexual orientation, or economic differences. Preference given for experience working successfully with those of similar demographics to the desired school placement.
Knowledge of subject matter being taught

Hours

Post-Certification

Priority hiring opportunities
3-year commitment (preferred) to LEA*

The residency year counts towards the three-year commitment
Receive mentoring support for the two years after program completion

 LOCATION:    4640 Sycamore School Road, Fort Worth, TX  76133
Family Therapist (Bilingual – Spanish)


Read More

Apply Now

Lena Pope is accepting applications for a Family Therapist (Bilingual-Spanish).  Interested candidates should email a cover letter, resume, and submit an on-line application to applications@lenapope.org. EOE

SUPERVISOR:           Community Based Services Supervisor

PRIMARY FUNCTION: Responsible for the implementation of a home or office-based program or service that will encourage clients/families to maintain cohesiveness and to preserve the family as a unit by providing crisis intervention, therapy, skills training, skills building groups, and linkage to community resources.

QUALIFICATIONS:

  Educational/Certification:
  Master's degree from an accredited college or university in social work, counseling, psychology, or other field related to health and human services.
  Appropriate licensure required. LPC-Associate, LMSW, LMFT-Associate or actively seeking licensure.
  Clinical knowledge of the DSM and disorders that impact children and youth.
  Experience providing counseling services and implementing evidence based therapeutic modalities.
  Broad knowledge of community resources.
  Experience working with at risk youth and families. Experience providing in-home services and group facilitation preferred.
  Driver's license required.
  Skills/Abilities:
  Bilingual Spanish required.
  Strong oral and written communication skills.
  Excellent counseling and clinical ability.
  Able to organize, coordinate, and direct service activities.
  Possess good judgement and decision-making skills.
  Able to use technical equipment such as a cell phone and personal computer for on-going communication
  Willingness to perform within a flexible schedule, including evenings and weekends.
  Ability to collaborate with family members and other professionals.
  Able to relate well with others in a multi-cultural environment.
 Other Requirements: Must have a driving record which is within the guidelines of the insurance underwriter. Must not have been charged with or convicted of   a  criminal offense that would disable the employment by failing to meet minimum standards as set by Lena Pope Policies and Procedures.

LOCATION:             3200 Sanguinet Street, Fort Worth, Texas 76107
Early Learning Teacher Toddler/2-year-old room


Read More

Apply Now

Reports to: Director of Early Learning Center

Position Functions:
1) Direct supervision of children: Maintains constant visual and auditory monitoring and promotes a safe learning environment.
2) Student Engagement: Creatively and consistently engages children in learning.
3) Conducts Assessment: Regularly observes and evaluates each child's progress and shares findings with parents and director at least twice a year.
4) Education: Provides planned learning activities that facilitate appropriate development of children.
5) Parent Engagement: Effectively communicates with parents (in verbal and written form).
6) Professionalism: Performs in a professional manner consistent with job description.
7) Classroom Management/Environment: Maintains an organized classroom and schedule.

Qualifications
To be able to perform this job successfully, an individual must be able to perform each essential duty satisfactorily. The requirements listed below are representative of the knowledge, skill and/or ability required.
• Bachelor's or Associate's degree in a child-related field, Early Childhood Education or equivalent required.
• 2 years experience in ECEC or related field
• Must possess knowledge of the following
o Developmental stages
o Effective childcare discipline management
o Appropriate parent and child communication
o Effective classroom environments specific to ages/stages

Location
3200 Sanguinet Street, Fort Worth, TX 76107
3620 Modlin Ave, Fort Worth, TX 76107
Early Learning Aide Preschool (full-time)


Read More

Apply Now

POSITION TITLE: Early Learning Aide Preschool (full-time)
SUPERVISOR: Early Learning Center Director

PRIMARY FUNCTION:

•Direct supervision of children:
-Maintains constant visual and auditory monitoring and promotes a safe learning environment.
•Student Engagement:
-Creatively and consistently assesses and engages children in learning.
•Education:
-Assists in implementing planned learning activities that facilitate appropriate learning and development of children.
•Parent Engagement:
-Effectively communicates with parents (in verbal and written form) information regarding program activities and child progress, behavior, successes and concerns.
•Professionalism:
-Performs in a professional manner consistent with Lena Pope expectations.
•Classroom Management/Environment:
-Effectively address classroom behaviors by teaching appropriate conflict resolution skills and maintaining the positive esteem of children

QUALIFICATIONS:

•Educational/Certification:
-Child Development Associate (CDA) and/or Associates Degree in a child related field required.
•Must be at least 18 years of age.
•A minimum of 6 months relevant experience serving early childhood population.
•Spanish speaking preferred.
•Ability to interact with clients and staff with sensitivity and responsiveness to cultural and socioeconomic characteristics in the service population.
•Skills/Abilities:
-Strong oral and written communication abilities.
-Ability to manage multiple projects simultaneously.
-Excellent organizational skills.
•Other Requirements: Must have a driving record which is within the guidelines of the insurance underwriter. Must not have been charged with or convicted of a criminal offense that would disable the employment by failing to meet minimum standards as set by the Licensing Branch of the Texas Department of Family and Protective Services.

LOCATION
Lena Pope ELC-UNTHSC Campus
3620 Modlin Ave.
Fort Worth, Texas 76107
Early Learning Aide (Full-Time and Part-Time)


Read More

Apply Now

Summary

Direct supervision of children:

Maintains constant visual and auditory monitoring and promotes a safe learning environment.

Student Engagement:

Creatively and consistently assesses and engages children in learning.

Education:

Assists in implementing planned learning activities that facilitate appropriate learning and development of children.

Parent Engagement:

Effectively communicates with parents (in verbal and written form) information regarding program activities and child progress, behavior, successes and concerns.

Professionalism:

Performs in a professional manner consistent with Lena Pope expectations.

Classroom Management/Environment:

Is able to effectively manage classroom behaviors by addressing negative behaviors and reinforcing positive behaviors

Qualifications

Educational/Certification:

For Full-Time Position – Child Development Associate (CDA) and/or Associates Degree in a child related field required.
For Part-Time Position – High school diploma required.

Must be at least 18 years of age.
A minimum of 6 months relevant experience serving early childhood population.
Spanish speaking preferred.
Ability to interact with clients and staff with sensitivity and responsiveness to cultural and socioeconomic characteristics in the service population.
Skills/Abilities:

Strong oral and written communication abilities.
Ability to manage multiple projects simultaneously.
Excellent organizational skills.

Other Requirements: Must have a driving record which is within the guidelines of the insurance underwriter. Must not have been charged with or convicted of a criminal offense that would disable the employment by failing to meet minimum standards as set by the Licensing Branch of the Texas Department of Family and Protective Services.

Interested candidates should email resume and employment application to applications@lenapope.org.  No phone, fax or walk in inquiries will be accepted.  EOE
Family Therapist – Community Based Services


Read More

Apply Now

SUPERVISOR:           Community Based Services Supervisor

PRIMARY FUNCTION: Responsible for the implementation of a home or office-based program or service that will encourage clients/families to maintain cohesiveness and to preserve the family as a unit by providing crisis intervention, therapy, skills training, and linkage to community resources.

QUALIFICATIONS:

Educational/Certification:

Master's degree from an accredited college or university in social work, counseling, psychology, or other field related to health and human services.
Appropriate licensure required. LPC- Associate, LMSW, LMFT- Associate or actively seeking licensure.
Clinical knowledge of the DSM and disorders that impact children and youth.
Broad knowledge of community resources.
Experience working with at risk youth and families.  Experience providing in-home services and group facilitation preferred.
Driver's license required.

Skills/Abilities:

Strong oral and written communication skills.
Excellent counseling and clinical ability.
Able to organize, coordinate, and direct service activities.
Possess good judgement and decision making skills.
Able to use technical equipment such as a cell phone and personal computer for on-going communication
Willingness to perform within a flexible schedule, including evenings and weekends.
Ability to collaborate with family members and other professionals.
Able to relate well with others in a multi-cultural environment.

Other Requirements: Must have a driving record which is within the guidelines of the insurance underwriter.  Must not have been charged with or convicted of a criminal offense that would disable the employment by failing to meet minimum standards as set by Lena Pope Policies and Procedures.


LOCATION:             3200 Sanguinet Street, Fort Worth, Texas 76107
Family Therapist (Bilingual – Spanish)


Read More

Apply Now

Lena Pope is accepting applications for a Family Therapist (Bilingual-Spanish).  Interested candidates should email a cover letter, resume, and submit an on-line application to applications@lenapope.org. EOE

SUPERVISOR:           Community Based Services Supervisor

PRIMARY FUNCTION: Responsible for the implementation of a home or office-based program or service that will encourage clients/families to maintain cohesiveness and to preserve the family as a unit by providing crisis intervention, therapy, skills training, skills building groups, and linkage to community resources.

QUALIFICATIONS:

  Educational/Certification:
  Master's degree from an accredited college or university in social work, counseling, psychology, or other field related to health and human services.
  Appropriate licensure required. LPC-Associate, LMSW, LMFT-Associate or actively seeking licensure.
  Clinical knowledge of the DSM and disorders that impact children and youth.
  Experience providing counseling services and implementing evidence based therapeutic modalities.
  Broad knowledge of community resources.
  Experience working with at risk youth and families. Experience providing in-home services and group facilitation preferred.
  Driver's license required.
  Skills/Abilities:
  Bilingual Spanish required.
  Strong oral and written communication skills.
  Excellent counseling and clinical ability.
  Able to organize, coordinate, and direct service activities.
  Possess good judgement and decision-making skills.
  Able to use technical equipment such as a cell phone and personal computer for on-going communication
  Willingness to perform within a flexible schedule, including evenings and weekends.
  Ability to collaborate with family members and other professionals.
  Able to relate well with others in a multi-cultural environment.
 Other Requirements: Must have a driving record which is within the guidelines of the insurance underwriter. Must not have been charged with or convicted of   a  criminal offense that would disable the employment by failing to meet minimum standards as set by Lena Pope Policies and Procedures.

LOCATION:             3200 Sanguinet Street, Fort Worth, Texas 76107
Substitute Teacher—long term—Kindergarten through 7th grade


Read More

Apply Now

Lena Pope's Chapel Hill Academy is accepting applications for long-term Substitute Teachers. Interested candidates should email a cover letter, resume, and submit an on-line application to applications@lenapope.org. EOE

POSITION TITLE: Substitute Teacher—long term—Kindergarten through 7th grade

GROUP: Chapel Hill Academy

SUPERVISOR: Assistant Principal

POSITION FUNCTION: 

Teach by utilizing well-designed lesson plans provided by team lead and rigorous instruction combined with curriculum activities and instructional objectives that are standards based, measurable, and accelerate the transfer of learning and knowledge
Monitor student progress and adjust instructional materials and strategies to provide differentiated instruction and address individual needs of the students by seeking guidance from lead teacher or other full-time staff
Assist in assessing and documenting student mastery of curriculum objectives and student progress and growth
Maintain accurate and efficient record-keeping of grade reports, student work, and other appropriate documents
Manage student behavior according to Chapel Hill Academy policies and consult with Dean of Students
Execute and maintain appropriate student-centered discipline techniques and effective classroom management strategies to maximize student learning and time-on-task
Monitor student behavior outside the classroom at designated times, between classes, and at assigned duty stations
Maintain classroom environment conducive to learning and appropriate for the physical, social, and emotional development of students
Meet all deadlines promptly regarding daily work grades, daily attendance, etc.
Abide by and enforce Lena Pope and Chapel Hill Academy policies and procedures
Perform other job-related duties as assigned

QUALIFICATIONS:  

Bachelor's degree from accredited college/university.
One year of classroom experience required
One year of working with children
Excellent communication & interpersonal skills

 LOCATION: 4640 Sycamore School Road, Fort Worth, TX  76133
Special Education Teacher


Read More

Apply Now

SUPERVISOR: Principal

POSITION FUNCTIONS:

* Maintains an appropriately challenging & engaging focused learning environment.
* Delivers differentiated instruction to students to address students' needs in promoting intellectual & social growth.
* Performs in a professional manner consistent with job description.
* Maintains an organized classroom environment conducive to promoting & inspiring learning for students in Pre-Kindergarten – 8th grades.
* Collaborate with & offer support to Diagnostician, Speech Therapist, teachers, supervisors, and other providers on current instruction to address IEP's, appropriate learning styles & provide staff development opportunities.
* Provide a variety of support services in order for students to experience success.

QUALIFICATIONS

To be able to perform this job successfully, an individual must be able to perform each essential duty satisfactorily. The requirements listed below are representative of the knowledge, skill and/or ability required.

* Bachelor's degree in Education required
* Successful experience teaching in a public or charter school
* Texas Teacher's Certification required
* Special Education Certification required

Must possess knowledge of the following:

* All content area TEKS for Kindergarten – 8th grade
* Pre-Kindergarten Guidelines
* Allowable Modifications & Accommodations
* Various areas of disabilities ranging from Learning Disabilities, Emotional
* Disturbances, Autism Spectrum, Other Health Impairments, etc.
* Effective classroom management
* Excellent communication skills

LOCATION

4640 Sycamore School Road Fort Worth, TX 76133
Math or Reading Tutor (after-school program)


Read More

Apply Now

Lena Pope Chapel Hill Academy is accepting applications for Math or Reading Tutors. Interested candidates should email a cover letter, resume, and application to applications@lenapope.org by 5:00 pm on Friday, July 1, 2022. EOE

SUPERVISOR: Education Research and Data Coordinator

PRIMARY FUNCTION: Provide direct tutoring services to small groups of growing readers and mathematicians in a school setting. Report to the Program Manager of Tutoring Services and track student's academic growth via BookNook, Amplify, or Zearn's small group tutoring intervention program.

PRIMARY DUTIES:

Provide tutoring services to students in grades fourth through eighth, Monday through Friday, five days a week from 3:15 pm to 6:30 pm, during the 2022-2023 school year. Tutoring begins on August 22, 2022 and ends May 5, 2023.
Monitor student progress periodically to decide if tutoring instruction is effective or needs adjustments.
Prepare tutoring sessions based on assigned small group lesson plans.
Track and report student attendance daily.
Implement feedback from the program manager in a prompt fashion.
Communicate and record student goals and achievements.
Review communication from the leadership team for any program changes and updates.
Attend synchronous or asynchronous bi-weekly meetings with the project manager.
Attend and engage virtual training and onboarding.
Supply data and program reports to internal and external stakeholders.

QUALIFICATIONS:

Strong commitment to serve youth (grades fourth through eighth).
General experience in Google Meet, Google Docs and Google Sheets.
Problem solving skills are preferred.
Strong knowledge in reading or math subjects.

LOCATION: Chapel Hill Academy

4640 Sycamore School Road

Fort Worth, Texas 76133
Teacher (Positions ranging from Early Childhood through 8th grade)


Read More

Apply Now

Lena Pope's Chapel Hill Academy is accepting applications for experienced teachers. Interested candidates should email a cover letter, resume and submit an on-line application to applications@lenapope.org. EOE

GROUP: Chapel Hill Academy

SUPERVISOR: Principal

POSITION FUNCTION: 

Teach by utilizing well-designed lesson plans and rigorous instruction combined with curriculum activities and instructional objectives that are standards based, measurable, and accelerate the transfer of learning and knowledge
Monitor student progress and adjust instructional materials and strategies to provide differentiated instruction and address individual needs of the students
Develop and implement lesson plans instructional units and opportunities for enrichment, differentiation, and project-based learning to provide for a collaborative, and interactive learning environment
Assess and document student mastery of curriculum objectives and student progress and growth utilizing frequent, appropriate, on-going, and multiple assessment tools through interventions, and formal and informal assessment procedures
Maintain accurate and efficient record-keeping of grade reports, student files, and other appropriate documents
Work cooperatively with special education teachers to modify curricula as needed for special education students according to guidelines established in Individual Education Plans (IEP)
Manage student behavior and administer discipline according to Chapel Hill Academy policies and IEPs
Execute and maintain appropriate student-centered discipline techniques and effective classroom management strategies to maximize student learning and time-on-task
Monitor student behavior outside the classroom at designated times, between classes, and at assigned duty stations
Engage parents and families in the academic and behavioral progress of their child by initiating parent conferences and providing opportunities for parents to continually support student learning and school programs
Create classroom environment conducive to learning and appropriate for the physical, social, and emotional development of students
Develop weekly lesson plans focusing on TEKS/SEs.
Collaborate closely with vertical and horizontal teams.
Maintain effective partnerships with parents via ongoing communication regarding academics/behavior.
Meet all deadlines promptly regarding grades, progress reports, daily attendance, etc.
Abide by and enforce Lena Pope and Chapel Hill Academy policies and procedures
Perform other job related duties as assigned.

QUALIFICATIONS:  

Bachelor's degree from accredited college/university.
Texas Teacher's Certification required.
Public or Charter school teaching experience required.
Proven record of successful teaching.
Excellent communication & interpersonal skills

 LOCATION:       4640 Sycamore School Road, Fort Worth, TX  76133
Teacher Resident


Read More

Apply Now

Lena Pope's Chapel Hill Academy is accepting applications for a Teacher Resident. Interested candidates should email a cover letter, resume and submit an on-line application to applications@lenapope.org. EOE

GROUP:  Chapel Hill Academy

SUPERVISOR:  Mentor Teacher and Principal

POSITION FUNCTION:  The teacher resident (TR) is a student teacher who participates in a year-long clinical experience under the guidance of a highly effective mentor teacher (MT For a full school year, full-time, the resident works alongside the MT. TRs are actively engaged in as many elements of the classroom as possible from the very beginning of the residency year. The TR will gradually assume greater responsibilities throughout the residency year as they develop as a teacher.

Typical responsibilities include learning while:

Co-planning and co-teaching with MT and other team members, leading small group instruction, leading instruction without the MT present (with planning support from MT).
Attending professional development prior to the start of the school year and on-going throughout the school year.
Participating in team planning, Professional Learning Communities, school-based professional development, campus faculty meetings, and meetings with their Site Coordinator (SC).
Working with the MT to monitor and improve instruction with formative and summative assessments, grading, data analysis, and rubrics to identify next steps.
Adapting and improving high-standards, differentiation-ready lesson plans that motivate strong student learning, after learning to deliver such lessons prepared by the MT and/or experienced team members.
Managing procedures, supervising students, and developing students' social-emotional skills during transitions, lunch, recess, assemblies, and other activities, and while team teachers plan or deliver instruction.
Embracing feedback from MTs and the Site Coordinator before, during, and after informal and formal observations.
Substituting within the school placement one day per week (applicable to candidates in the paid residency)
Taking responsibility for other non-instructional duties as assigned by the MT.

Responsibilities
(while learning from MT and collaborating with team; may vary)

Classroom and School Environment—Yearlong

Identify and address individual students' social, emotional, and behavioral learning needs and barriers
Hold students accountable for ambitious, measurable, high expectations of behavior and engagement
Contribute to a culture of respect, enthusiasm, and rapport
Manage student behavior during transitions and less structured time (such as recess, lunch)
Monitor independent work time in classroom while teacher provides instruction
Identify and suggest ways to engage students in a physical/virtual classroom that include technology

Planning and Preparation—Progressively Doing More

Co-Plan with MT and team
Ensure a high-standards, differentiation-ready curriculum
Plan backward to align all lessons, activities, and assessments with high-expectation standards & curriculum
Implement and suggest improvements to instruction that develop higher order thinking skills and is personalized, reflecting the levels and interests of individual students
Implement and suggest improvements to assessments that accurately assess student progress

Instruction—Progressively Doing More

Provide small-group instruction under the direction and using tools/rubrics of the MT and team
Supervise student skills practice, projects, and digital learning
Co-Teach with MT
Lead whole-group instruction
Participate in instructional planning, data review, and improvement during the year

Professional Responsibilities

Solicit and willingly receive feedback from MT, Principal, SC, and team members to improve professional skills
Meet with MT to ensure alignment of instructional vision and delivery in all classrooms and to troubleshoot students' persistent learning challenges
Collaborate with other grade-level team members
Participate in professional development opportunities at school

QUALIFICATIONS:  

Enrolled in the EPP program, working towards a teaching certificate 
Strong work ethic, open to feedback, with willingness to implement next steps, and a belief that all students can achieve.
Demonstrated effectiveness working with people who have differing cultural backgrounds and/or personal characteristics, including race, religion, gender, sexual orientation, or economic differences. Preference given for experience working successfully with those of similar demographics to the desired school placement.
Knowledge of subject matter being taught

Hours

Post-Certification

Priority hiring opportunities
3-year commitment (preferred) to LEA*

The residency year counts towards the three-year commitment
Receive mentoring support for the two years after program completion

 LOCATION:    4640 Sycamore School Road, Fort Worth, TX  76133
Early Learning Toddler Teacher 2-3 year olds (Full-time)


Read More

Apply Now

If you would like to continue your commitment to our children and families and meet the qualifications, please submit your interest (in writing, email, or hard copy) and an updated resume to Robert Ramirez by 5:00 pm on May 22, 2023.

Reports to: Director of the Early Learning Center/UNTHSC Campus

Position Functions:
1. Direct supervision of children:  Maintains constant visual and auditory monitoring and
promotes a safe learning environment.
2. Student Engagement:  Creatively and consistently engages children in learning.
3. Conducts Assessment:  Regularly observes and evaluates each child's progress and shares
findings with parents and director at least twice a year.
4. Education:  Provides planned learning activities that facilitate appropriate development of
children.
5. Parent Engagement:  Effectively communicates with parents (in verbal and written form).
6. Professionalism:  Performs in a professional manner consistent with job description.
7. Classroom Management/Environment:  Maintains an organized classroom and schedule.

Qualifications:
To be able to perform this job successfully, an individual must be able to perform each essential
duty satisfactorily. The requirements listed below are representative of the knowledge, skill
and/or ability required.
• Associate's degree in Early Childhood Education or a child-related field
required.
• Must possess knowledge of the following
o Developmental stages
o Effective childcare discipline management
o Appropriate parent and child communication
o Effective classroom environments specific to ages ages/stages.
(2-3 years old)

Location
3620 Modlin Ave. Fort Worth, TX 76107
Early Learning Toddler Teacher (Full-time)


Read More

Apply Now

Lena Pope is accepting applications for an Early Learning Toddler Teacher. Interested candidates should email a cover letter, resume, and submit an on-line application to applications@lenapopehome.org. EOE

Reports to:  Director of Early Learning Center

Position Functions:

Direct supervision of children:  Maintains constant visual and auditory monitoring and promotes a safe learning environment.
Student Engagement:  Creatively and consistently engages children in learning.
Conducts Assessment:  Regularly observes and evaluates each child's progress and shares findings with parents and director at least twice a year.
Education:  Provides planned learning activities that facilitate appropriate development of children.
Parent Engagement:  Effectively communicates with parents (in verbal and written form).
Professionalism:  Performs in a professional manner consistent with job description.
Classroom Management/Environment:  Maintains an organized classroom and schedule.

Qualifications:

To be able to perform this job successfully, an individual must be able to perform each essential duty satisfactorily. The requirements listed below are representative of the knowledge, skill and/or ability required.

Associate's degree in Early Childhood Education or a child-related field required.
Must possess knowledge of the following
Developmental stages
Effective childcare discipline management
Appropriate parent and child communication
Effective classroom environments specific to ages/stages

Location

3200 Sanguinet Street, Fort Worth, TX 76107
Early Learning Aide (Preschool, full time)


Read More

Apply Now

Lena Pope is accepting applications for an Early Learning Aide. Interested candidates should email a cover letter, resume, and submit an on-line application to applications@lenapope.org. EOE

POSITION TITLE:      Early Learning Aide (Preschool, full time)

SUPERVISOR:           Early Learning Center Director, UNTHSC Campus

PRIMARY FUNCTION: 

Direct supervision of children:

Maintains constant visual and auditory monitoring and promotes a safe learning environment.

Student Engagement:

Creatively and consistently assesses and engages children in learning.

Education:

Assists in implementing planned learning activities that facilitate appropriate learning and development of children.

Parent Engagement:

Effectively communicates with parents (in verbal and written form) information regarding program activities and child progress, behavior, successes and concerns.

Professionalism:

Performs in a professional manner consistent with Lena Pope expectations.

Classroom Management/Environment:

Is able to effectively manage classroom behaviors by addressing negative behaviors and reinforcing positive behaviors

QUALIFICATIONS:

Educational/Certification:

Child Development Associate (CDA) and/or Associates Degree in a child related field required.

Must be at least 18 years of age.
A minimum of 6 months relevant experience serving early childhood population.
Spanish speaking preferred.
Ability to interact with clients and staff with sensitivity and responsiveness to cultural and socioeconomic characteristics in the service population.
Skills/Abilities:

Strong oral and written communication abilities.
Ability to manage multiple projects simultaneously.
Excellent organizational skills.

Other Requirements: Must have a driving record which is within the guidelines of the insurance underwriter.  Must not have been charged with or convicted of a criminal offense that would disable the employment by failing to meet minimum standards as set by the Licensing Branch of the Texas Department of Family and Protective Services.

LOCATION

3620 Modlin Ave.
Fort Worth, Texas 76107
Early Learning Toddler Teacher 2 and 3-year old(Full-Time)


Read More

Apply Now

Lena Pope is accepting applications for an Early Learning Toddler Teacher. Interested candidates should email a cover letter, resume, and submit an on-line application to applications@lenapope.org. EOE

Reports to:              Director of Early Learning Center

Position Functions:

1) Direct supervision of children: Maintains constant visual and auditory monitoring and promotes a safe learning environment.

2) Student Engagement: Creatively and consistently engages children in learning.

3) Conducts Assessment: Regularly observes and evaluates each child's progress and shares findings with parents and director at least twice a year.

4) Education: Provides planned learning activities that facilitate appropriate development of children.

5) Parent Engagement: Effectively communicates with parents (in verbal and written form).

6) Professionalism: Performs in a professional manner consistent with job description.

7) Classroom Management/Environment: Maintains an organized classroom and schedule.

Qualifications

To be able to perform this job successfully, an individual must be able to perform each essential duty satisfactorily. The requirements listed below are representative of the knowledge, skill and/or ability required.

Associates degree in Early Childhood Education or a child-related field required.
Must possess knowledge of the following o Developmental stages o Effective childcare discipline management o Appropriate parent and child communication o Effective classroom environments specific to ages/stages

Location
3200 Sanguinet Street, Fort Worth, TX 76107
Early Learning Teacher Toddler/2-year-old room


Read More

Apply Now

Reports to: Director of Early Learning Center

Position Functions:
1) Direct supervision of children: Maintains constant visual and auditory monitoring and promotes a safe learning environment.
2) Student Engagement: Creatively and consistently engages children in learning.
3) Conducts Assessment: Regularly observes and evaluates each child's progress and shares findings with parents and director at least twice a year.
4) Education: Provides planned learning activities that facilitate appropriate development of children.
5) Parent Engagement: Effectively communicates with parents (in verbal and written form).
6) Professionalism: Performs in a professional manner consistent with job description.
7) Classroom Management/Environment: Maintains an organized classroom and schedule.

Qualifications
To be able to perform this job successfully, an individual must be able to perform each essential duty satisfactorily. The requirements listed below are representative of the knowledge, skill and/or ability required.
• Bachelor's or Associate's degree in a child-related field, Early Childhood Education or equivalent required.
• 2 years experience in ECEC or related field
• Must possess knowledge of the following
o Developmental stages
o Effective childcare discipline management
o Appropriate parent and child communication
o Effective classroom environments specific to ages/stages

Location
3200 Sanguinet Street, Fort Worth, TX 76107
3620 Modlin Ave, Fort Worth, TX 76107
Early Learning Aide Preschool (full-time)


Read More

Apply Now

POSITION TITLE: Early Learning Aide Preschool (full-time)
SUPERVISOR: Early Learning Center Director

PRIMARY FUNCTION:

•Direct supervision of children:
-Maintains constant visual and auditory monitoring and promotes a safe learning environment.
•Student Engagement:
-Creatively and consistently assesses and engages children in learning.
•Education:
-Assists in implementing planned learning activities that facilitate appropriate learning and development of children.
•Parent Engagement:
-Effectively communicates with parents (in verbal and written form) information regarding program activities and child progress, behavior, successes and concerns.
•Professionalism:
-Performs in a professional manner consistent with Lena Pope expectations.
•Classroom Management/Environment:
-Effectively address classroom behaviors by teaching appropriate conflict resolution skills and maintaining the positive esteem of children

QUALIFICATIONS:

•Educational/Certification:
-Child Development Associate (CDA) and/or Associates Degree in a child related field required.
•Must be at least 18 years of age.
•A minimum of 6 months relevant experience serving early childhood population.
•Spanish speaking preferred.
•Ability to interact with clients and staff with sensitivity and responsiveness to cultural and socioeconomic characteristics in the service population.
•Skills/Abilities:
-Strong oral and written communication abilities.
-Ability to manage multiple projects simultaneously.
-Excellent organizational skills.
•Other Requirements: Must have a driving record which is within the guidelines of the insurance underwriter. Must not have been charged with or convicted of a criminal offense that would disable the employment by failing to meet minimum standards as set by the Licensing Branch of the Texas Department of Family and Protective Services.

LOCATION
Lena Pope ELC-UNTHSC Campus
3620 Modlin Ave.
Fort Worth, Texas 76107
Early Learning Aide (Full-Time and Part-Time)


Read More

Apply Now

Summary

Direct supervision of children:

Maintains constant visual and auditory monitoring and promotes a safe learning environment.

Student Engagement:

Creatively and consistently assesses and engages children in learning.

Education:

Assists in implementing planned learning activities that facilitate appropriate learning and development of children.

Parent Engagement:

Effectively communicates with parents (in verbal and written form) information regarding program activities and child progress, behavior, successes and concerns.

Professionalism:

Performs in a professional manner consistent with Lena Pope expectations.

Classroom Management/Environment:

Is able to effectively manage classroom behaviors by addressing negative behaviors and reinforcing positive behaviors

Qualifications

Educational/Certification:

Child Development Associate (CDA) and/or Associates Degree in a child related
field required.

Must be at least 18 years of age.
A minimum of 6 months relevant experience serving early childhood population.
Spanish speaking preferred.
Ability to interact with clients and staff with sensitivity and responsiveness to cultural and socioeconomic characteristics in the service population.
Skills/Abilities:

Strong oral and written communication abilities.
Ability to manage multiple projects simultaneously.
Excellent organizational skills.

Other Requirements: Must have a driving record which is within the guidelines of the insurance underwriter. Must not have been charged with or convicted of a criminal offense that would disable the employment by failing to meet minimum standards as set by the Licensing Branch of the Texas Department of Family and Protective Services.

Interested candidates should email resume and employment application to applications@lenapope.org.  No phone, fax or walk in inquiries will be accepted.  EOE